Silhouette Upgrade van Designer -> Business Edition
Heeft u de uitbreiding 'Designer Edition' al op uw computer staan en wilt u de Business Edition dan is het vanaf nu mogelijk om alleen de upgrade voor de Business Edition aan te schaffen.
LET OP, als u de Designer Edition nog niet op uw computer heeft staan dan werkt deze code niet.
Silhouette Business Edition heeft een aantal extra mogelijkheden toegevoegd voor de professionele gebruiker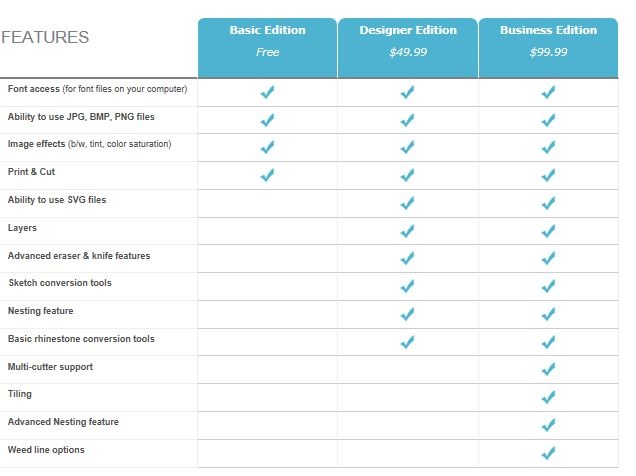 Ai/CDR file capability The Silhouette Studio® Business Edition provides the ability to open Ai, EPS, and CDR files directly which have been created from other major vector imaging software programs (such as Adobe Illustrator® or CorelDraw®).
The Designer Edition does not provide the ability to save as Ai, EPS, or CDR files.
How To: To access this feature in the Business Edition, go to the File menu and select Open. If on a PC, you will need to select the file type you are seeking to open and select the Ai, EPS, or CDR option.

You may either select to cut by layer and simply enable the desired layers, or opt to cut by line color and either enable the "no color" line to be cut or re-color your lines as desired using the Line Color tool.
You may alternately opt to use the Silhouette Connect™ program to cut these files from their native software programs.
Automated Nesting preview mode The Silhouette Studio® Business Edition provides an Automated Nesting preview mode where shapes are automatically nested within the Cut Preview to provide efficient usage of the material being cut, while maintaining the image's original positioning in the Design Preview mode allowing the user to continue editing and refining the design.
Automated Weed Line feature The Silhouette Studio® Business Edition provides an Automated Weed Line feature.The Automated Weed Line feature provides the option to create weed lines within open line paths for easier weeding of materials such as vinyl and heat transfer. Options include a surrounding weed line border as well as internal weed lines inside the design's open spaces (such as within letters) to provide an easy method of removing excess material after the completion of the cut job.
Multi-cutter support:The Silhouette Studio® Business Edition provides multi-cutter support. This means that when using the Business Edition, you are provided the ability to send cut jobs to multiple Silhouette cutting units at the same time as they are hooked up to your computer.
Matrix Copy feature: The Silhouette Studio® Business Edition provides a Matrix Copy feature. This feature will provide the ability to create multiple copies of the same project with variable data as inserted by the user. This feature is ideal for making name tags and other personalized batch projects that require variable data inserted into the same image.
Job Repeat: The Silhouette Studio® Business Edition provides a Job Repeat feature. This feature provides the ability to replicate a cut job multiple times uninterrupted when performing large scale batch jobs.
Silhouette Studio® Business Edition overview :
Silhouette Studio® Business Edition is a version of the Silhouette Studio® software program which users may upgrade to. It is intended for small business users who want to unlock and explore further features of the software program relating to using the Silhouette in a small business setting. The Business Edition allows users to utilize multiple Silhouette units simultaneously in order to mass produce jobs in a small business environment. The Business Edition also allows users to import Ai, EPS, and CDR files that have been created with other such programs.
Silhouette Studio® Business Edition retains all of the capabilities of the basic Silhouette Studio software and includes all of the Designer Edition version features. It is not a completely different program but rather an upgrade version of the Silhouette Studio® program that can be purchased